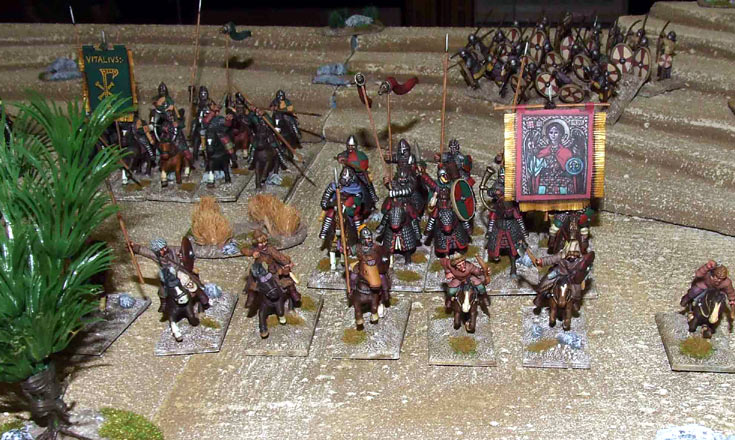 Claymore, 2008
2nd August 2008,
Comments Off
---
Misc., Wargame Show, Edinburgh
Well, another Claymore has come and gone – the last one in its present cramped venue. next year we'll be moving to a bigger, brighter and much better venue on the other side of town. As usual the show was a chance to chat to old pals, to meet new people, to waste money on lead, and to drool over some very pretty demo games.
These pictures show a few of these, including an extremely pretty Byzantine v Sassanid game (which won first prize), a striking recreation of the crossing of the Boyne, and a stunning Indian Mutiny game.
Other good demo games included a Boxer Rebellion game, c.1900 (Falkirk Club), and a refight of Bothwell Bridge, 1679 (Tyne Club).  While both of these had beautiful figures, their terrain lacked the "wow factor" which the Boyne, Solachon and Mutiny games possessed in bucket-loads.
There was also an attractive Marlburian game featuring a splendid star fort, and a pretty Seven Years War battle, albeit in a miniscule figure scale! Oh, and there were a few fantasy games, taking up space…
Finally here are  wargaming pal  Dave Marks and his eldest son Sam, up from Essex for the day. More pictures of games, participants and prize-winners will appear on the Club website.
All in all it was a great show – but I'm sure we'll all be pleased to move to a better venue next year. As usual I came away with lead I didn't need, including bags of Colonial, French Revolutionary War and American War of Independence figures. Let's just hope I get a chance to paint them before next August…